Home >
Cuisine
Saké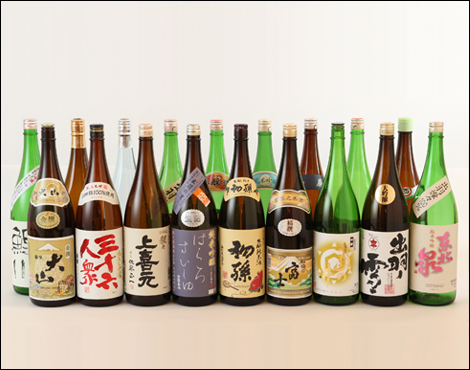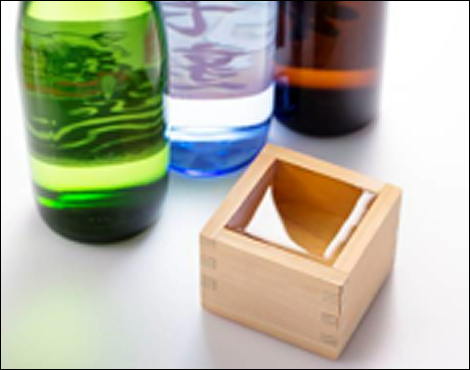 Shonai is one of Japan's leading rice-producing regions, and where delicious rice is found, so is fine sake.
The top-prize category in the Annual Japan Sake Awards includes a lineup of Shonai brews each year, and the region is also home to some of Japan's most popular drinking spots. The 18 breweries that are the pride of Shonai turn high-quality rice and pristine water from the region's rich natural environment into fragrant and delectable sake.
Partake at Oyama New Sake & Breweries Festival, Shonai Sake Festival, onsen, or the Sankyo Rice Storehouses' Sakata Yume-no-Kura Souvenir Shop, and enjoy the unique flavors of Shonai sake brews, each with a rich personality.
Moso-jiru

【Bamboo Shoot Soup】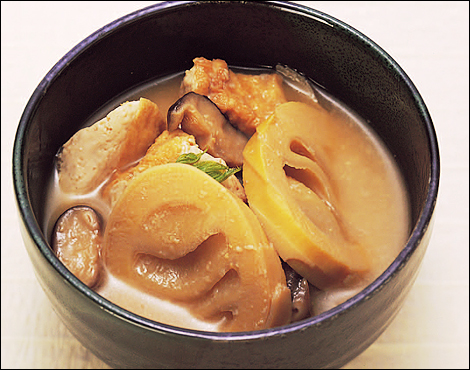 Towards the end of April and beginning of May, moso-jiru appears on the dining table. Chunks of bamboo shoots, fried tofu, and shiitake mushrooms are added to a broth of miso and Shonai's fine saké lees. The fragrance and crisp firmness of the bamboo shoots, combined with the broth permeated by the faint sweetness of the saké lees, give moso-jiru a home-cooked flavor that calls to mind a fresh spring day.
Enjoy this soup at Shonai's onsen and dining establishments.
Iwagaki

【Japanese Rock Oyster】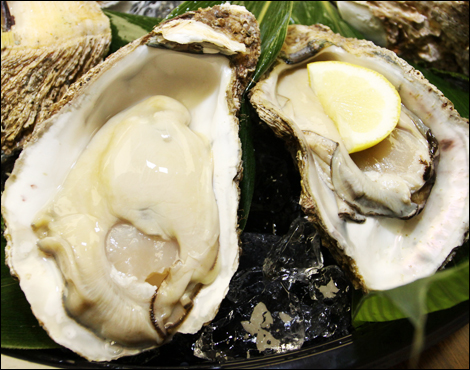 These are also called "summer oysters", as they reach their peak flavor at the height of summer.
The most delicious way to eat these rock oysters is raw; they're delicious with lemon juice or just plain. The instant you place one in your mouth, the taste of the ocean floods your senses: a mellow sweetness, then savory. It almost feels like eating the sea itself.
Iwagaki can be enjoyed at the Sakata Fish Market, Shonai Tourist Souvenir Center, and Roadside Station Chokai Furatto. They are in season during July and August.
Dadacha-mame

Soybeans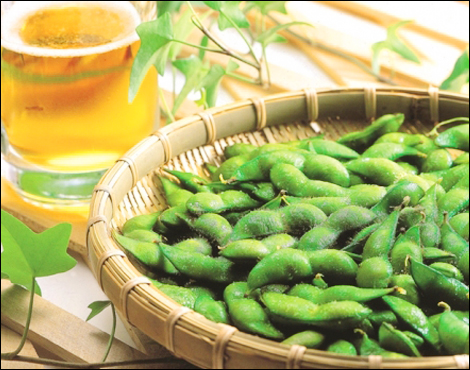 An indispensable part of summer in Shonai, dadacha-mame are said to be the most high-quality and delicious edamame in the world. Both sweet and savory, with a characteristically pleasant fragrance, just boiling these will fill the room with a sweet aroma. Once you take a bite, you won't be able to stop! Heaping plates of dadacha-mame have been known to disappear in an instant.
When dadacha-mame samples were passed out at Expo Milano 2015, a world exhibition in Italy, they were an instant hit, with patrons exclaiming: "I definitely want these; I've never tasted anything like them!" and "I think this flavor could really catch on in Italy!"
Partake of dadacha-mame at onsen in Tsuruoka City, or Shonai restaurants. They are in season from July to the beginning of September.
Tonkatsu

【Breaded Pork Cutlet】

Because of the taste and quality of Shonai's pork, it is counted among the three most delicious varieties produced in regions north of Kanto. The other two it stands with, Hiraboku-sangenton and Kinka (a.k.a. Jinhua) pork, are arguably luxury brands.
Hiraboku-sangenton and Kinka pork are delicious as barbeque, shabu-shabu, or as part of any dish, but tastiest as tonkatsu. The snowy pork fat has a light yet savory flavor, and the meat is both melt-in-your-mouth tender and juicy. Tonkatsu is available in Tsuruoka City and Sakata City, and at Maiko Teahouse Soma-ro.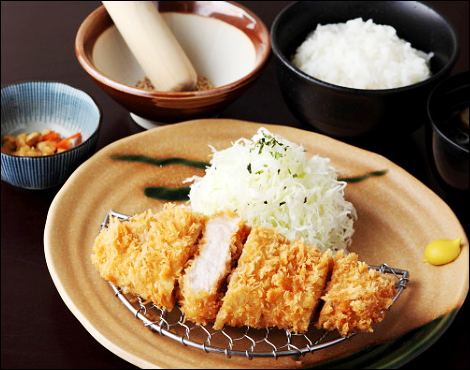 Hirata Bokujo Tonya
| | |
| --- | --- |
| Location | |
| Telephone no. | TEL: +81-234-23-8011 |
| Opening Hours | 11am-3pm 5pm-9.30pm |
| Closed days | Irregular holidays |
Hirata Bokujo Shonai Airport
| | |
| --- | --- |
| Location | |
| Telephone no. | TEL: +81-234-91-1529 |
| Opening Hours | 11am-2.30pm 4pm-7pm |
| Closed days | Open throughout the year |
Tonshichi, Tsuruoka Kopia
| | |
| --- | --- |
| Location | |
| Telephone no. | TEL: +81-235-29-5525 |
| Opening Hours | 11am-3pm 5pm-9pm |
| Closed days | Irregular holidays |
Sakata Ramen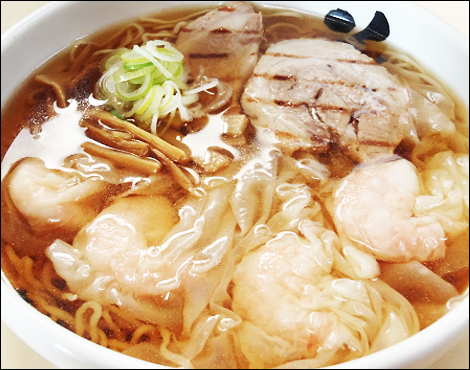 Sakata Ramen is a famously fierce competitor in the world of high-class ramen nationwide. Come lunchtime, one will see numerous long lines of patrons waiting to eat.
The broth is comprised of a light soy sauce base with dried sardines, kombu (kelp), and other seafood. Sakata Ramen restaurants are so particular about their noodles that more than 8 in 10 of them make their own noodles fresh in-house!
Sakata's French Cuisine
Food-lovers have unanimously fallen for the gourmet town of Sakata, where French food is also called French-style Regional Cuisine. Sakata is home to many restaurants offering this cuisine, in which local ingredients, such as fish, are used in abundance to create a unique western taste that can only be experienced in Shonai.
French Style Local Food le Pot Au Feu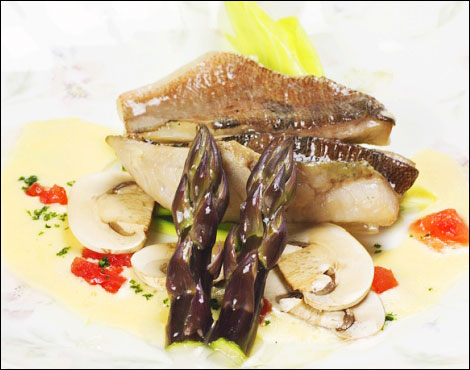 Location
Telephone no.
TEL: +81-234-26-2218
FAX: +81-234-22-2277
Opening Hours
Lunch: 11.30am-2pm
Dinner: 5.30pm-8pm

Closed days
Wednesdays
Except for national holidays
Al-ché-cciano
The bounty of sea, mountain, and forest: Chef Masayuki Okuda, founder of the Italian restaurant Al-ché-cciano, introduced wonderful natural ingredients from Shonai throughout the country, where our region is now known as a "Food Capitol." Visit Al-ché-cciano to taste natural ingredients found only in Shonai, plus fresh seasonal vegetables, all cooked simply and deliciously.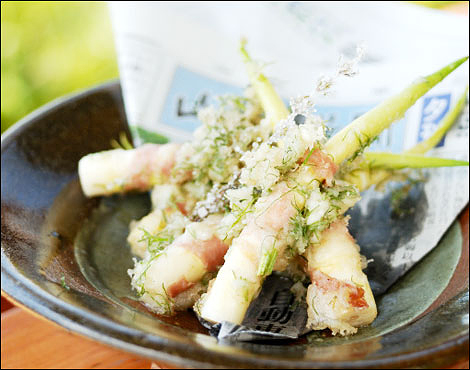 Location
Telephone no.
TEL: +81-235-78-7230
FAX: +81-235-78-7231
Opening Hours
Lunch: 11.30am-2pm
Dinner: 6pm-9pm
Closed days
Mondays